Efficient construction site logistics
-save time, money and health
The Liftroller system comprises a range of products developed to solve logistical challenges on building sites. The system is used on building projects for faster, easier and safer transportation of materials into buildings.
Construction site logistics has never been easier
Customers all over the world have saved significant amounts of money with the Liftroller® logistics solution. Not only is it more efficient and cheaper than other solutions, it also saves site workers having to do heavy lifting. This generates considerable savings for your company in both the short and long term.
Moving materials onto each floor does not have to be costly or time-consuming. Roll materials and equipment directly onto the floor quickly, easily and safely.
The products form a conveyor line of rollers between the outside and the inside of the building. With the Liftroller system installed on your building site, you can crane/transport the building materials directly onto each floor before rolling them to their final destination.
There are numerous benefits and savings to be had by using the Liftroller system on your building site. Here you can read more about estimated costs and savings on past building projects where Liftroller was used.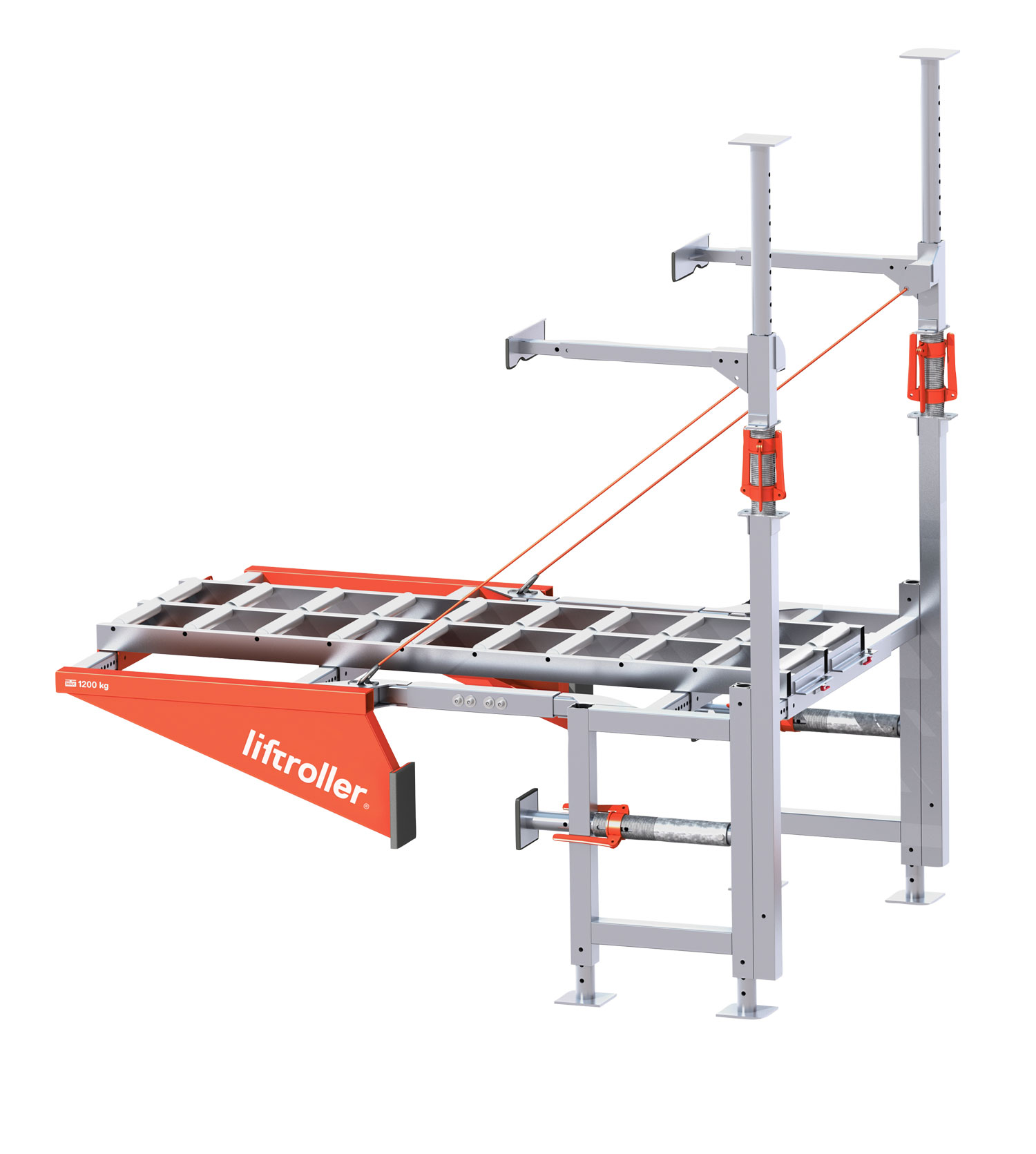 Liftroller Wall is a mobile lifting platform with rollers which can be placed in apertures in the building to form a conveyor belt for transporting materials into and out of the respective floors. The solution is designed to simplify inbound and outbound transportation on construction sites and make it faster, easier and safer.
Talk to us about rental
Every building project is unique, and we can help you identify which products are best suited to your building site.
See pictures of Liftroller
The Liftroller system allows you to roll materials, equipment and building waste to and from each floor without exposing your workers to heavy lifting. 
The system is suitable for large and small projects – both newbuilds and renovations.
See pictures from building projects using the Liftroller system to transport materials.
In less than an hour, we hauled more than 12
tonnes of plaster through the window.
The rollers move both ways, so why not use it to its maximum potential.
Before we used Liftroller, there was a lot of carrying. The materials were placed in the backyard and carried in from there. With Liftroller, everything was much easier, and the workers did not have to wear themselves out. Absolutely brilliant!
Liftroller systemet er valgt som logistikkløsning på nybyggprosjektet Sthlm New 02 i Stockholm. Entreprenør på prosjektet er Skanska AB. Bygget skal stå ferdig desember 2024.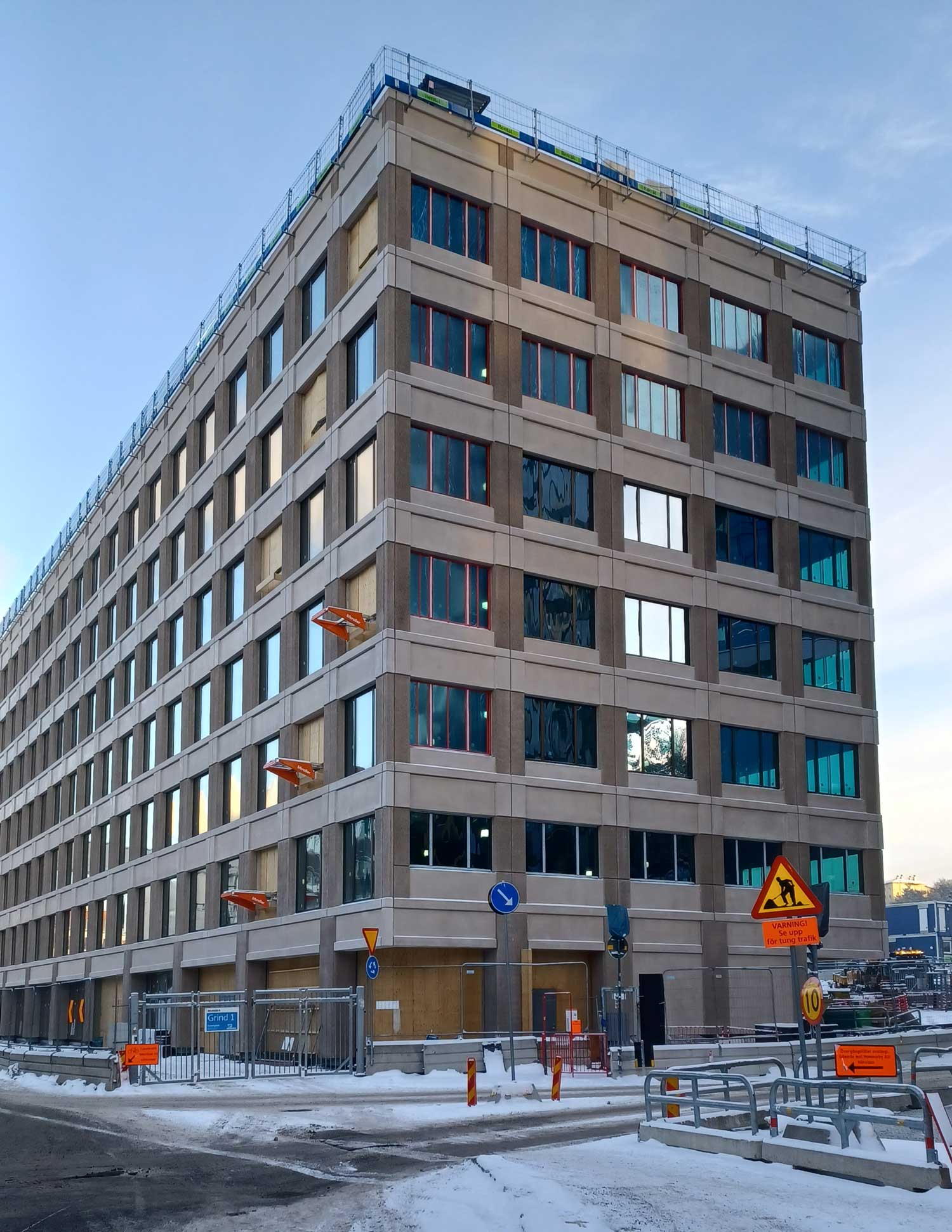 Byggeprosjektet "Sthlm New 02 "
Prosjekt: Sthlm New 02 – Næringsbygg – kontor lokaler
Sted: Stockholm, Sverige
Entreprenør: Skanska AB
Prosjekttype: Nybygg
Størrelse: 7 etasjer, 7450 kvm
Liftroller system: Liftroller® Wall, Liftroller® Wagon, Liftroller® El Wagon, Liftroller® Stacker.
Det Kreative Stockholm flyttes
Det Kreative Stockholm flyttes sørover. Det nye distriktet, rett utenfor Stockholm sentrum, ligger i et urbant strøk hvor det blant annet skal bygges 7 nye bygg. Byggeprosjektet Sthlm New 02 er blant disse. Vår kunde Skanska AB er godt i gang med oppføringen av det 7 etasjes høye kontorbygget som skal stå ferdig desember 2024. Kontorbygningen er et miljøvennlig og moderne bygg med plass til 8000 mennesker.
Skanska bruker Liftroller systemet til å transportere inn byggevarer i alle byggets etasjer. Når Liftroller systemet ikke er i bruk, eller det er flyttet til en annen etasje, lukkes åpningen i fasaden enkelt med en tilpasset finerplate. Vi har sett flere kreative og gode løsninger ute hos våre kunder på hvordan du enkelt kan lukke åpningen midlertidig i byggeprosessen, og på denne måten holde bygget temperert og tørt mellom hver materialleveranse. Vår kunde Hent AS i Narvik laget utviklet sin egen smarte patent på nettopp dette. Du kan lese mer om Hent AS og byggeprosjektet Nye UNN her.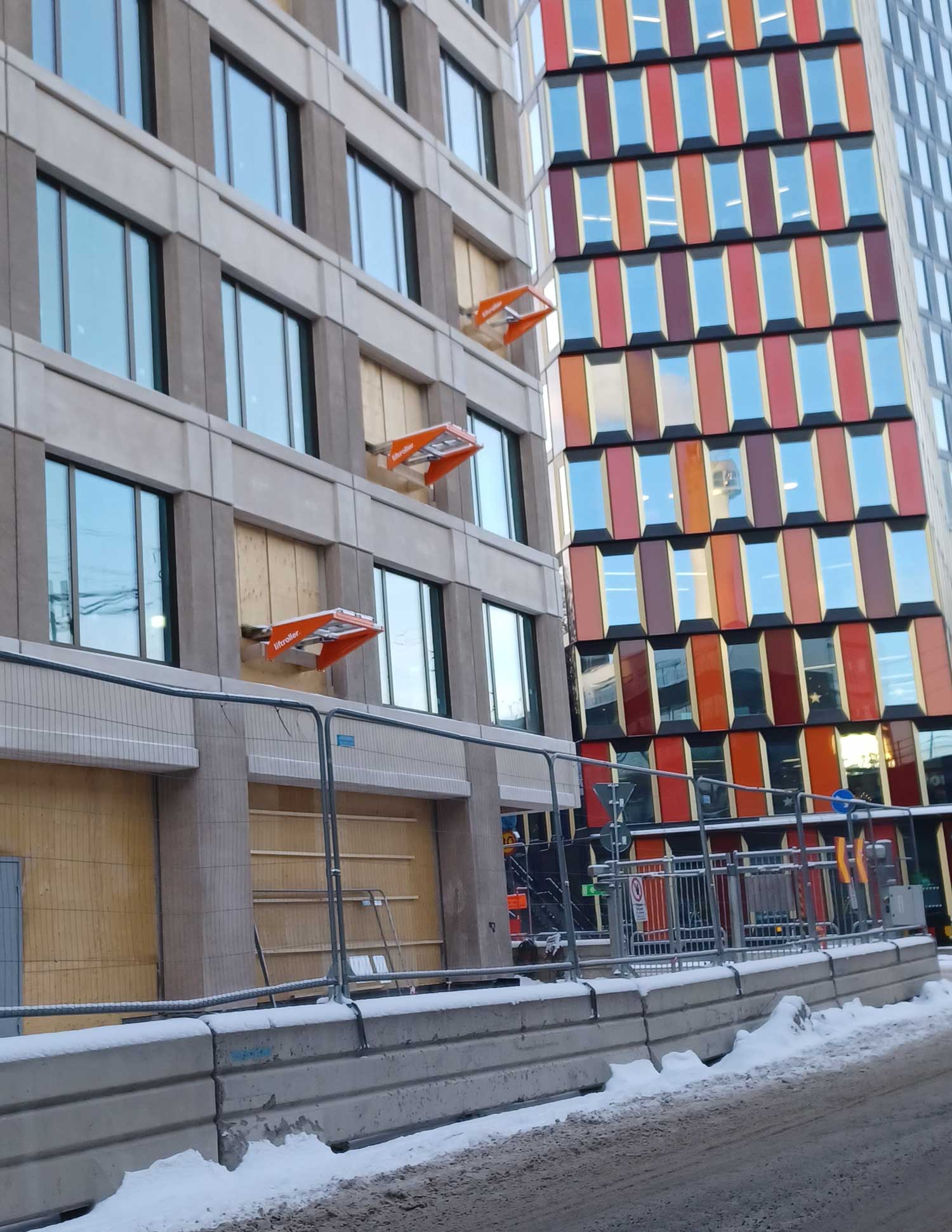 Effektive material leveranser
Landingsrampene for bygningsmateriell er strategisk plassert diagonalt overfor hverandre på fasaden. Med flere Liftroller Wall fordelt på etasjene er det lettvint å få inn det de trenger, når de trenger det. Dermed får de optimal flyt i produksjonen.
En av fordelene med å bruke Liftroller på dette prosjektet er at byggeplassen ligger i Hammarby Allé, et tungt trafikkert område med svært begrenset riggplass på bakkenivå. Dette er en vanlig utfordring i sentrumsnære prosjekter. På slike prosjekter er det store besparelser å bruke landingsramper hvor materialene kan heises opp og rulles rett inn i bygget uten å måtte mellomlagre på bakkenivå. Det eneste de trenger er nok plass utenfor til at kranbilen kan stoppe en liten stund for å laste av og kjøre videre.
På dette prosjektet besto Liftroller systemet av innløftingsrampen Liftroller Wall, materialvognene Liftroller Wagon og Liftroller El Wagon samt pallejekken Liftroller Stacker.