Liftroller Floor -Lifting platform with rollers, for efficient transportation of materials.
The Liftroller Floor is a lifting platform designed to ease inbound and outbound transportation of materials in buildings with floor-to-ceiling apertures.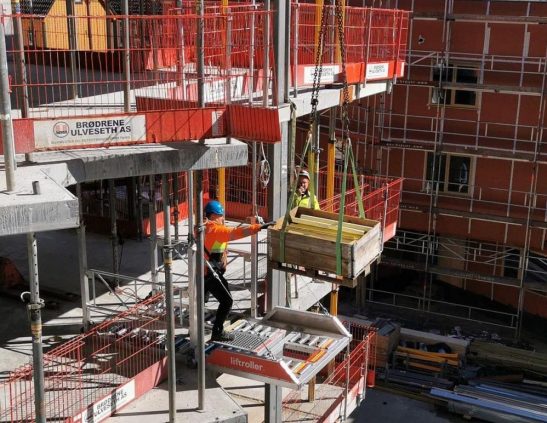 The low-build rollers allow you to utilise the ceiling height and move tall packs of materials. It comprises several small, individual components and is easy to assemble. The components are light and can be carried by one person.
Materials can be rolled in at floor level and then moved further with a standard pallet jack. The Liftroller Floor is certified for loads up to 1,500 kg. You can use the Liftroller Crane to place the materials onto trestles. You can read more about the Liftroller Crane here.
Assembling and using the Liftroller Floor
The Liftroller Floor is lightweight, and its components can easily be carried to the desired floor.
It is easy to assemble and dismantle and can be placed on a EUR pallet when moving it to and from the building site.
Does not require a certified installer. Can be assembled by the user.
The ramp is fitted with wheels and can therefore be assembled at a safe distance from the slab edge before being wheeled into place.
When not in use the Liftroller Floor is protected by railings to prevent people from stepping onto it.
The work zone is clearly marked in the interest of safety.
The rollers are fitted with a powerful spring-loaded load stopper at the end. A foot pedal lowers the stopper when the load is ready to be rolled.
The Liftroller Floor works just as well for both inbound and outbound transportation of materials.
Adapted standard pallet jack. Both long and short pallet jackets can be used according to need.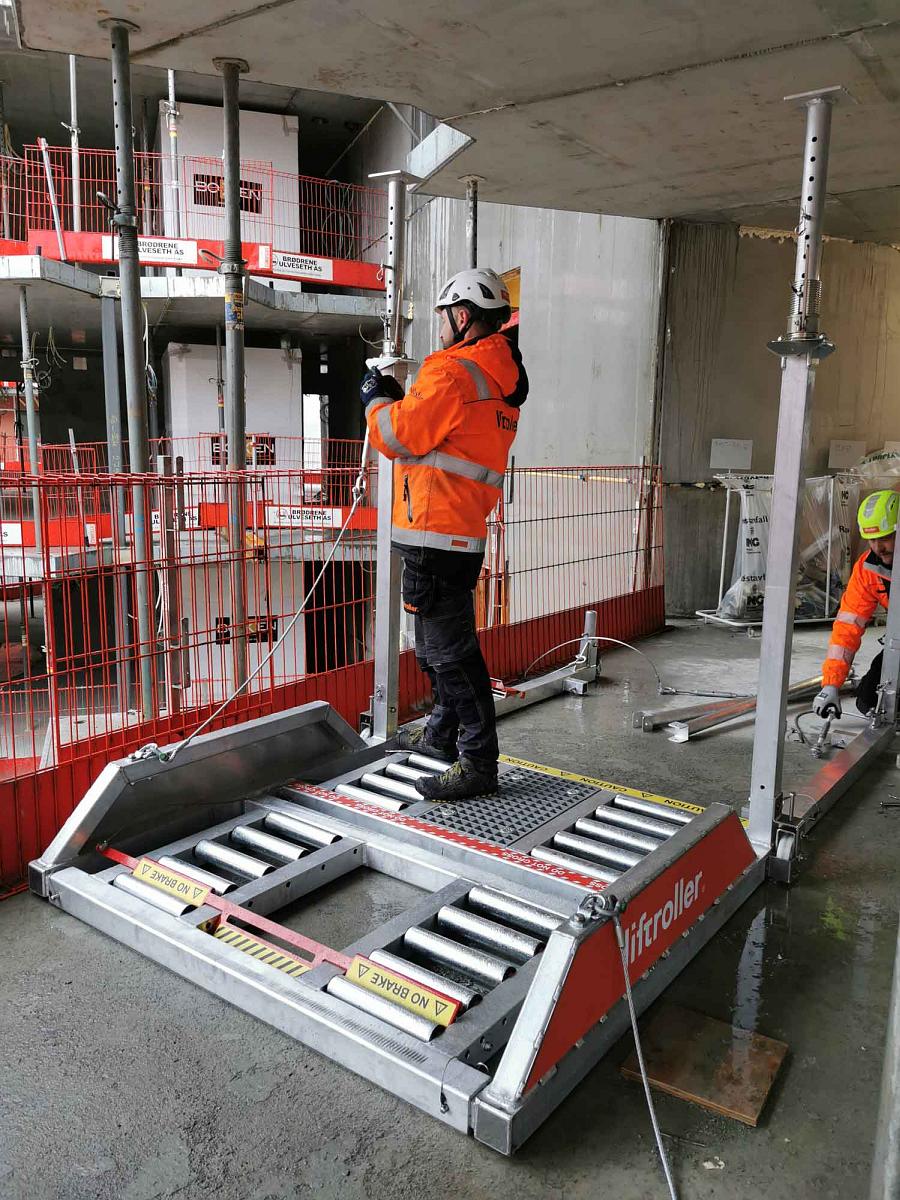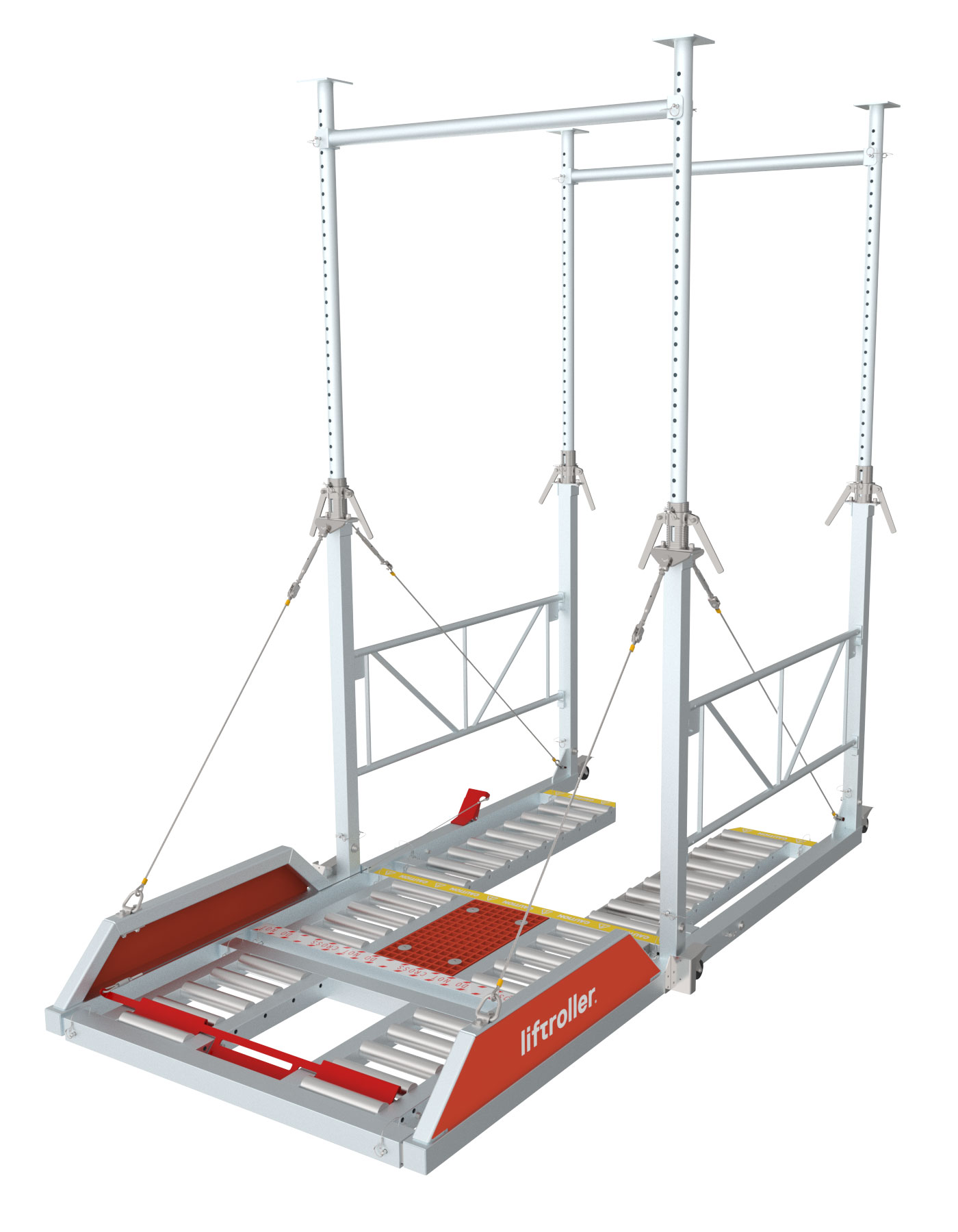 Technical spesifications-standard version*
| | |
| --- | --- |
| Inner width (max load width) | 1400 mm |
| Total width (included maneuvering wheels) | 1780 mm |
| Length of part inside building | 2000 mm |
| Length of part outside building | 1300 mm |
| Total length | 3300 mm |
| Minimum floor hight/ceiling hight | 2200 mm |
| Maksimum floor hight/ ceiling hight | 3250 mm* |
| Height from top rollers to floor | 85 mm |
| Width U track for pallet jack | 570 mm |
| Tare weight total | 259 kg** |
| Maksimum Load capacity (WLL) | 1500 kg |
*   Custom made sizes available upon request.
** Easily disassembled, no tools necessary, allowing for easy carrying in manageable parts.
Talk to us about rental
Every building project is unique, and we can help you identify which products are best suited to your building site.