Liftroller Wagon -Goods trolley with rollers for efficient inbound and outbound transportation of building materials.
The Liftroller Wagon is a manual hydraulic goods trolley tailor-made for use together with the Liftroller Wall landing platform. The trolley is fitted with rollers on its top frame to ease the flow of materials. Materials can be rolled directly from the Liftroller Wall onto the trolley quickly, easily and safely.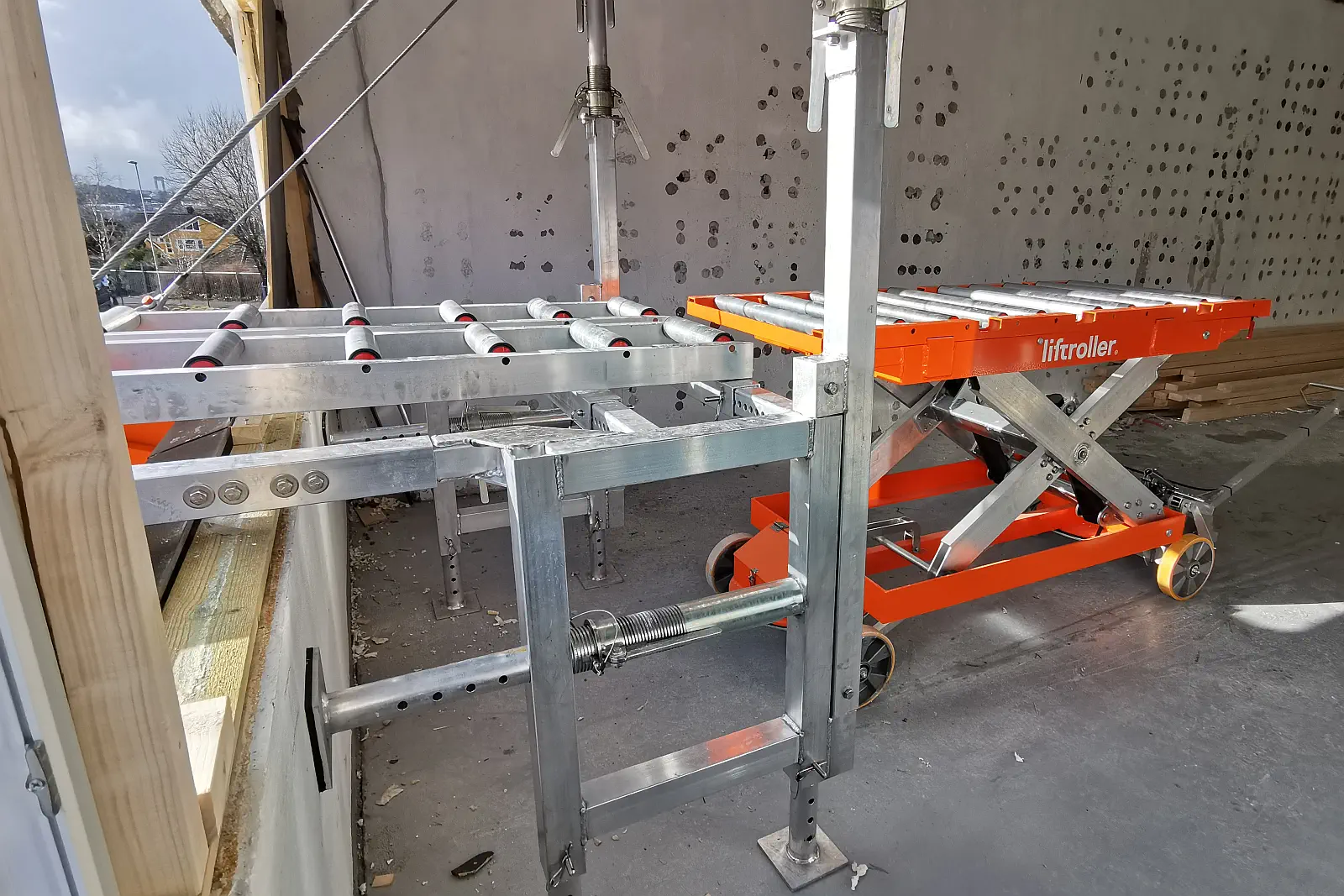 There are three slots for trestles in the top frame to accommodate different sized loads.
The rollers on the top frame are equipped with a brake to ensure that the load remains stable when wheeling the trolley to its destination.
The trolley turns on both axles and is therefore very easy to manoeuvre in confined spaces.
Lower the materials onto the trestles, and the trolley is ready for the next delivery.
Ergonomics and safe handling of materials
By placing the materials directly onto trestles, you can achieve the correct working height when handling the materials at a later stage.
Materials placed onto trestles are easier to move without the need for heavy manual lifting.
Moving the materials off the floor helps keep the building clean.
Assembly and use
With only four portable components, the Liftroller Wagon is easy and quick to dismantle.
Can be assembled and dismantled without tools.
The components can therefore be carried to the required floor when the use of a crane or other equipment is not possible.
The jack handle is easy to take off to save space when moving the trolley.
The double action pump means the trolley can quickly be pumped to its desired height.
The trolley can easily be stopped by a single person by pressing the jack handle against the wheels.
Lifting height: 525–1,250 mm.
Maximum load: 1,200 kg.

NB! Most other goods trolleys designed for lifting plasterboard on and off trestles will have insufficient lifting height to be combined with the Liftroller Wall landing platform.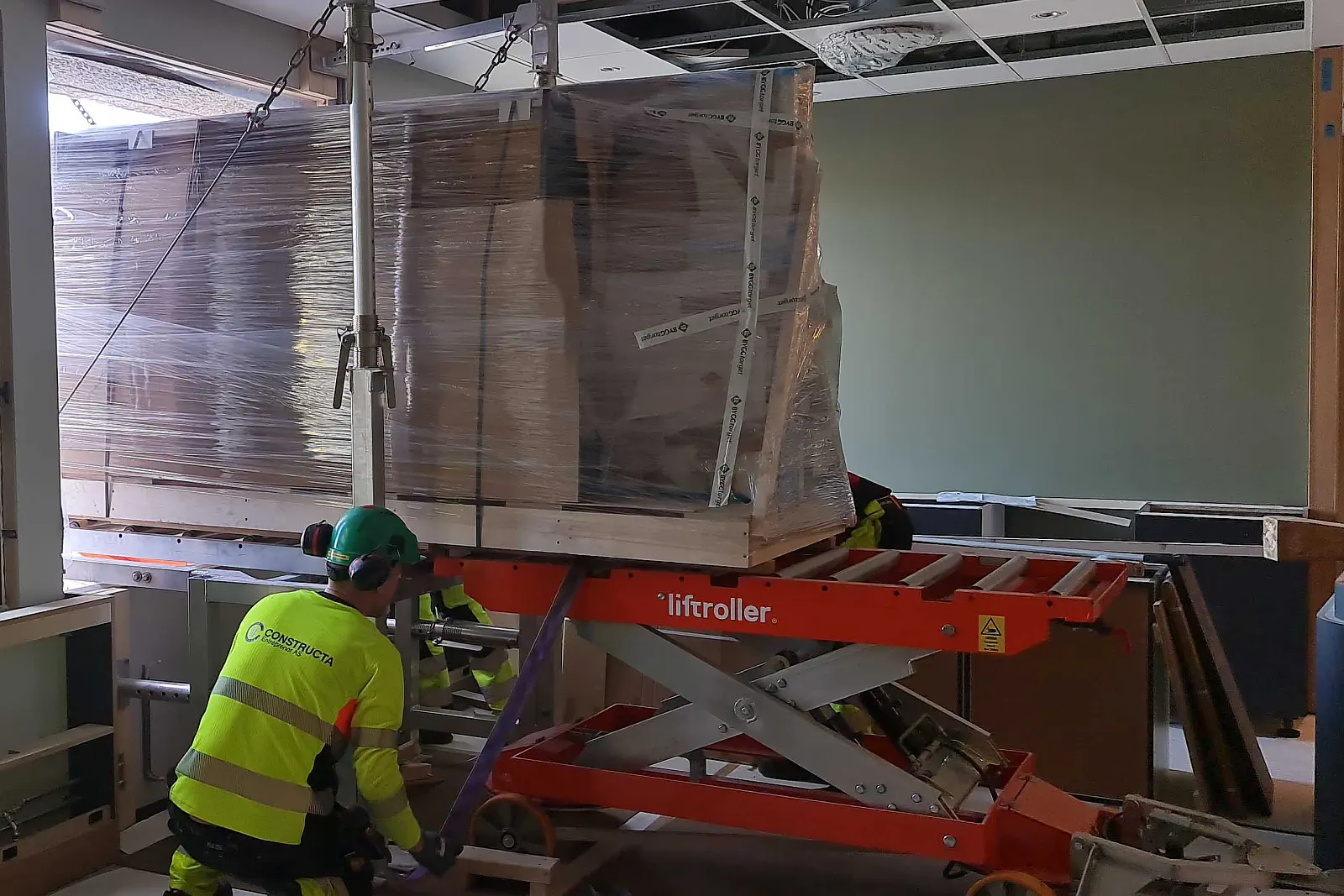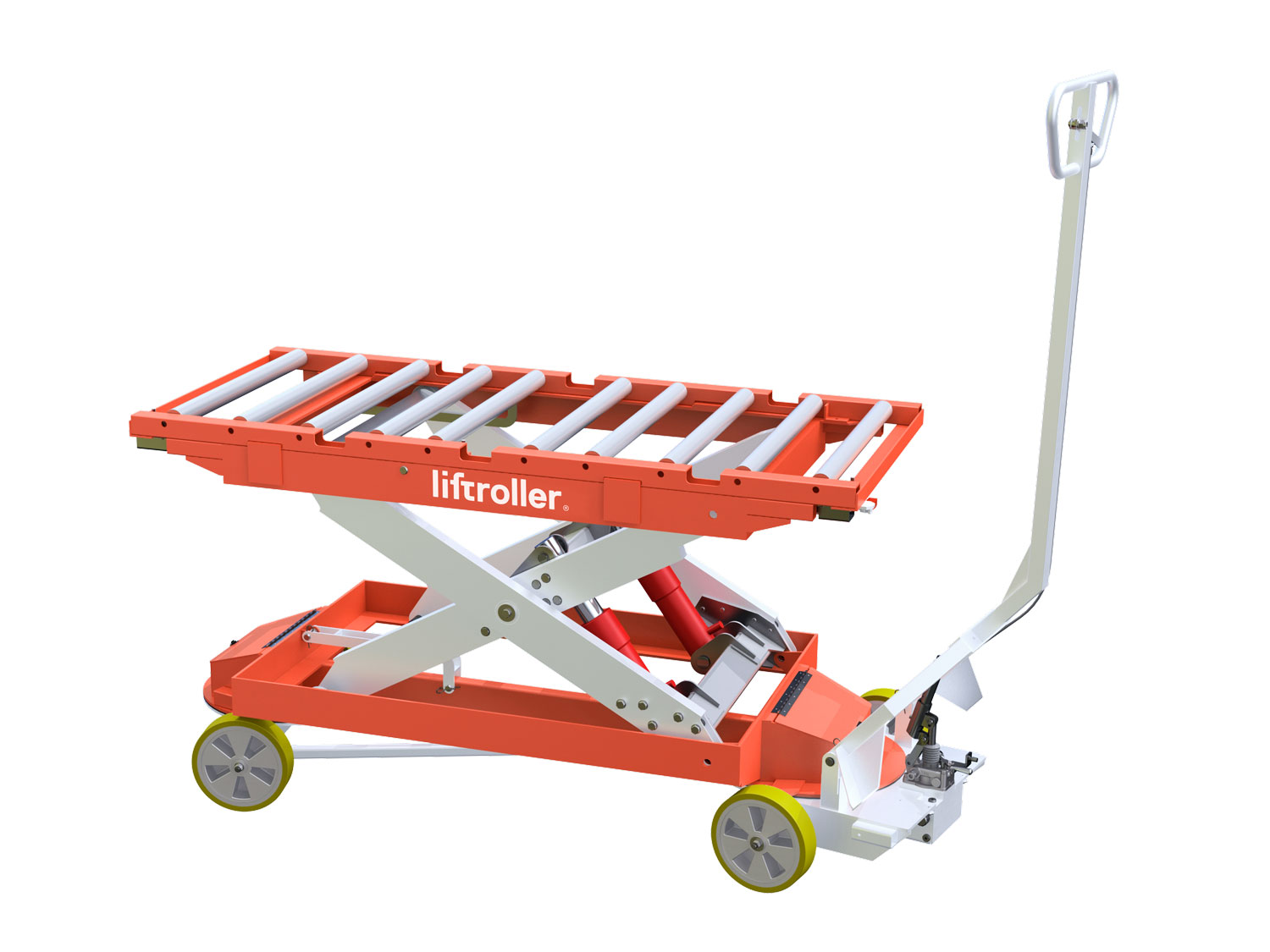 | | |
| --- | --- |
| Minimum heigth trolley | 525 mm |
| Maksimum height trolley | 1200 mm |
| Lenght of roller table | 1700 mm |
| Lenghtof  trolley without handle | 2019 mm |
| Lenght handle | 1037 mm |
| Width | 800 mm |
| Tare weight total | 230 kg* |
| Max. weight load (WLL) | 1200 kg |
* Easily disassembled, no tools necessary, allowing for easy carrying in manageable parts.
Talk to us about rental
Every building project is unique, and we can help you identify which products are best suited to your building site.