Bergen County Hall – Rolled in material packages on Liftroller Floor
Liftroller Floor was chosen as a logistics solution when the last material packages were to enter the County Hall before closing the façade. Material packages of up to 5 meters in length were effectively rolled into the fourth floor, and the building could have its façade closed within the deadline.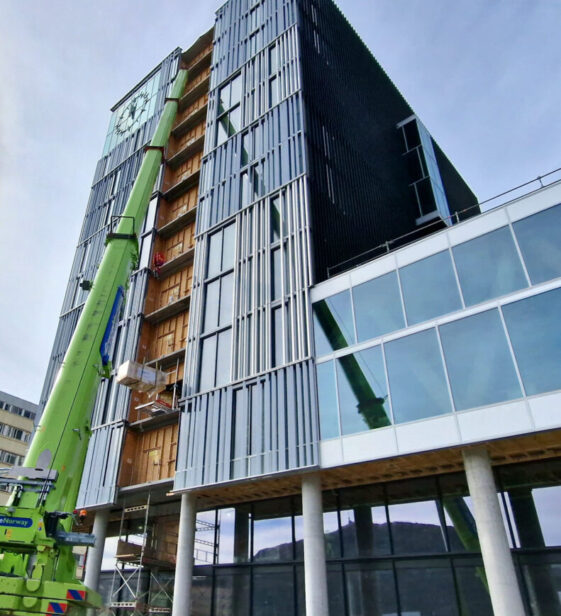 Liftroller Floor selected as logistics solution for newbuilding's
Project: The County Hall in Bergen
Project type: New building
Main contractor: LAB AS
Subcontractor: Moelven Modus AS, Åsane Byggmesterforening AS
Location: Bergen city center, Norway
Liftroller system: Liftroller Floor
Efficient material handling - façade closure
In order to solve the logistics for material handling in the final phase of the county house, the main contractor LAB AS chose to rent the loading ramp Liftroller Floor from the rental company Liftroller Rental AS.   
The beautiful façade consists of large wall modules in glass that are mounted with a mobile crane from the bottom up. In order not to impede the progress of the construction project, the external construction elevators had to be dismantled. Large wall modules were to be installed in the last openings of the building, and by that time everything had to be ready. This resulted in logistical challenges on the construction project as there were still material deliveries going up to the floors of the building. The solution was to install the Liftroller Floor in one of the remaining openings in the façade.  
Within one working day, the Liftroller Floor was delivered and assembled, and all material packages were rolled into the building. This allowed LAB to close the building at the scheduled time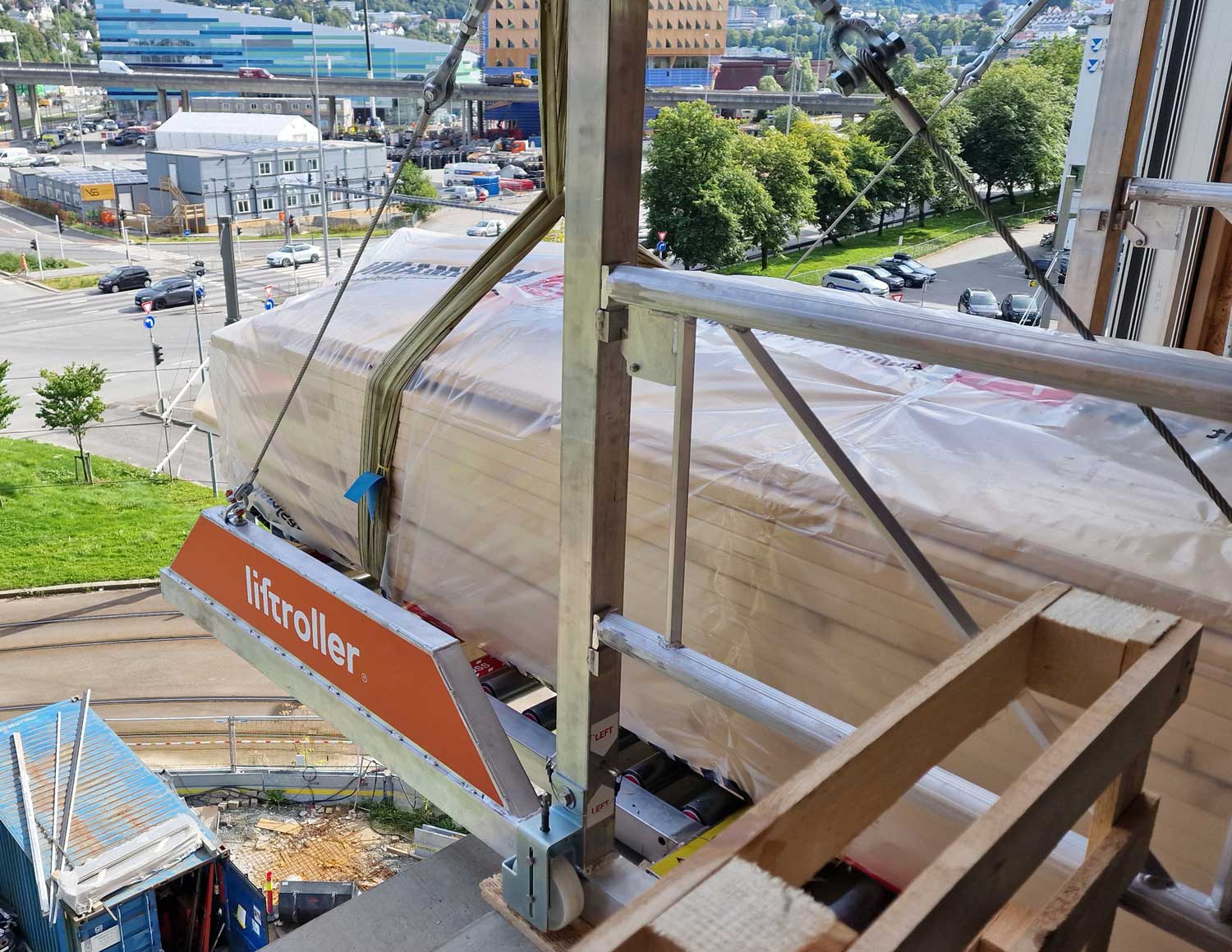 Liftroller Floor was best suited for this project
The opening in the façade of the County Hall went from floor to ceiling and it was therefore natural to use Liftroller Floor on this project. The material packages were rolled in at floor level on the floor, and transported further into the building by pallet jack.
If the material packages are to be placed on plaster trestles, we recommend using the Liftroller Stacker in combination with the Liftroller Floor. You can read more about the Liftroller Stacker here. 
One of the advantages of using the Liftroller system for transporting building materials is the ability to roll in long material packages. There is no length restriction on the Liftroller Floor, as long as the weight does not exceed 1500kg, and the size of the room allows the length. You can read more about the Liftroller Floor here.