The former U.S. Embassy in Norway – Cooling units moved between floors using the Liftroller Floor
The Liftroller floor solution was used in a new and smart way when the former US embassy in Oslo was to be renovated. The logistical challenge: Three cooling units weighing 900 kg each had to be transported down the floors of the building. The system's flexibility and solution-oriented employees at BVR AS resolved the logistics challenge painlessly.
Liftroller Floor on the old US Embassy
Prosjekt: The former U.S. Embassy
Prosjekttype: Renovation
Kunde: Bærums Verk Rørleggerbedrift AS
Sted: Oslo, Norway
Liftroller system: Liftroller Floor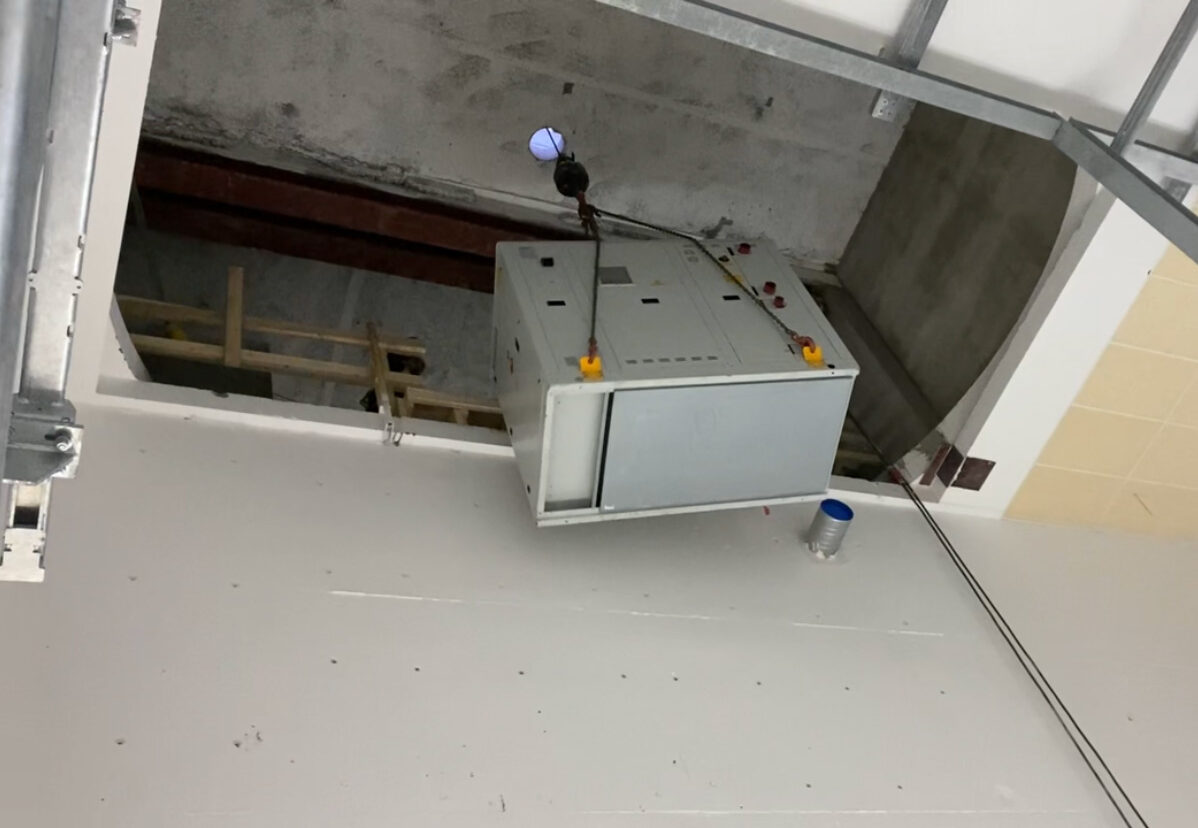 Solution-oriented people + smart logistics products = success
The former US Embassy in Oslo has been undergoing renovation since 2017, when the US authorities moved to a new location. It will soon be finished and will be reopened as a public building with workplaces, catering, culture, and a large roof terrace.
One of the last things to be installed was three cooling units that will be placed several floors below the ground. Bærums Verk Rørleggerbedrift AS (BVR AS) got this job. Having to lift down these cooling units through a recess in the floor, 3 floors below ground level, meant that they had to think outside the box. How could they move the 900 kg heavy aggregates in the simplest and safest way, in a closed room under the ground where there was not much space left between the aggregate and the roof?
Some solution-oriented minds in BVR AS came to think about the Liftroller system's flexibility. After a conversation with Liftroller's customer advisors, we found that a Floor model would solve the task for them.
The Floor model is so light weight that it could be carried below ground level to U1 and mounted above a recess in the floor where a car lift is planned. They drilled a small hole into the open in the ceiling, large enough for them to lower the hook of an outside crane. The unit was then placed on the Liftroller Floor using a pallet jack, rolled out, and then hoisted up from the rollers with the crane that was operated from the outside. The Liftroller Floor was then pulled back onto the deck, and the aggregate could be lowered to the lowest level and handled from there with a pallet jack. Minutes later, the Floor model was rolled forward again and ready to take down the next two aggregates.
We are very satisfied with Liftroller. It made the task easy to solve.