Liftroller provides value as stock exchange building is renovated
The contractor was forced to think new when renovating and converting the old stock exchange into a hotel. Such an old building poses a number of challenges when it comes to logistics. When Eivind Holmedal, construction manager at LAB, read about the Liftroller in the industry magazine Byggeindustrien he was in no doubt that the device would help get the building materials onto the site.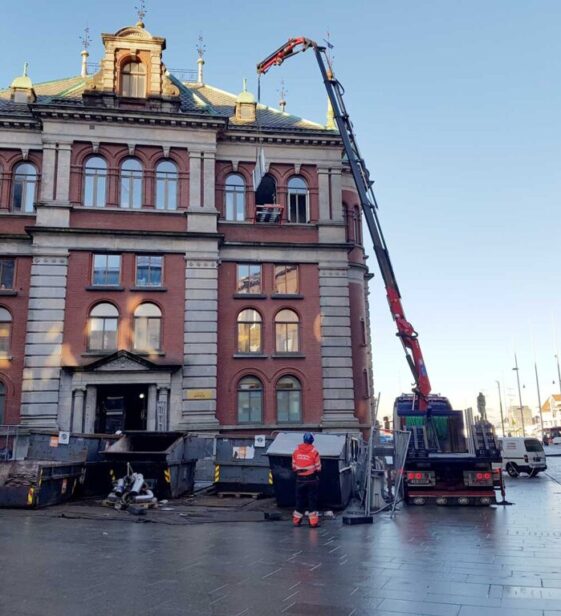 No harm done to the listed façade
He was not wrong. Only four months after LAB purchased the Liftroller, Holmedal was able to conclude that not only had they managed to get the 500 kg rolls of carpets inside along with several tonnes of plasterboard; they had also dropped off EUR pallets with tiles, a ventilation system, internal doors and the industrial kitchen, amongst other things – all with the help of the Liftroller. And without interfering with the listed façade. The investment had already paid for itself, and that is without considering the health and safety benefits.
LAB Entreprenør is Bergen's leading building contractor, turning over between NOK 1.2 and 1.4 billion in a normal year. The company employs nearly 150 people and focuses strongly on the Lean methodology.
LAB has used the Liftroller on several projects, the first of them being the renovation of the Bergen stock exchange, a grand building dating from 1862. The unique stock exchange building was designed by Wilhelm Shiertz in the neoclassical style and rebuilt in 1890–1893 to a design by Lars Solberg. It is considered one of Bergen's most important Renaissance Revival buildings. It houses one of Norway's national treasures, the so-called Fresco Hall adorned with frescoes depicting scenes from Bergen's business community. DNB has been based here in recent years. LAB has converted it into the fashionable Bergen Børs Hotel.