Hotel Opus XVI- Remodeling project with a protected façade
Liftroller Wall has been used as a logistics solution at several hotels during remodeling. Among them Opus XVI – The Edvard Grieg Heritage Hotel in Bergen city center. In the heart of Bergen, Kruse Smith Entrepreneur has rebuilt the old bank building from 1876 into a fashionable hotel. A common challenge on historic buildings with a protected façade is to achieve a good logistics flow without damaging the façade. The old "Banco Rotto" building was no exception.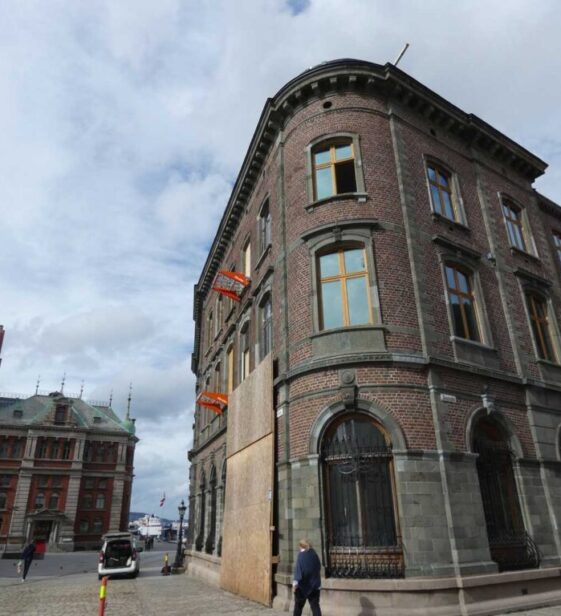 Liftroller selected as logistics solution
Project: Hotel Opus XVI
Project type: Rehab and remodeling from bank to hotel
Contractor: Kruse Smith AS
Location: Bergen city center
Protected facade and interior
The old bank building has great historical value. The building's facade, the entire ground floor and the stairwells are therefore protected. This presented several challenges in a rebuilding phase, especially when it comes to logistics in and out of the building.
Liftroller Wall model is well suited for this type of construction project. It does not cause any damage to the facade, and it makes the work much easier for the carpenters. Entire packages of building materials are efficiently rolled into the floors.
 By avoiding having to intervene in the façade making big openings to solve the logistics, it is easier and much cheaper to meet the National Heritage Board's guidelines for preserving important cultural monuments.
Custom adaptions
Protected facades often have decoration that requires custom made adaptation so that Liftroller Wall has an even surface to be attached to. It can be stucco or other decoration that has historical value and helps to give the building a distinctive character. This is easily solved with some good carpentry knowledge. The plate on the outer part of the Liftroller Wall has pre-perforated holes that one can screw on such a custom wooden adaptation, and thus be able to stamp around a decoration. On the Banco Rotto building, they have evened out the distance between the brick wall and the sole bench with a piece of wood, and thus they have gotten an even surface for the Liftroller to be fitted against.